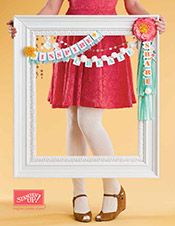 Today starts the new year for Stampin'Up! And I just love all the new things available to us this year. Here are a few reasons why I am loving it:
- Fantastic samples!! As always there are clever ways to use the products in the catalogue and this year, they are even telling you which colour they used in the background so you can easily tell which colours will go with the projects shown.

- New colours!! The new colours are just beautiful and really complement the existing colours to ensure you have a fresh colour palette to work with.

- Bundles!! There are lots of great bundles all through the catalogue to help you save money and get a collection of products all designed to be used together.

- Embellishments!! There are lots of new embellishments that will add a wow to all your projects...clay and moulds, candy dots, buttons, ribbon just to name a few.

- Creative Tips!! All through the catalogue are picture tips of how to use new products and re-create the projects.

- Community Service!! This year, Stampin' Up! have become world wide sponsors of the Ronald McDonald House charities. They will donate $3 for every sale of the set Tag It on page 45. This is a great way to give back to the community and have a cute set to create with.
You can check the new catalogue out online
here
, or you can contact me
here
to find out how to get your copy now!
Don't forget you can see some of the great new products at my catalogue launch this Saturday. If you haven't done so already, please RSVP by 3rd July to ronniedoll11@gmail.com to ensure I have enough goodie bags, make and takes and food!