I know today is Wednesday, but yesterday just turned into one of "those"days. So to make up for it I have a set of 6 notecards to share with you. I made this set using the brand new Sketched Birthday set and the new In Colours. I also made a matching box (which I forgot to take a photo of!) to hold all the cards as they were a gift for my lovely friend Elice for helping me with my launch party. I love the simplicity of these cards, and are a great idea to create a whole bunch in one sitting.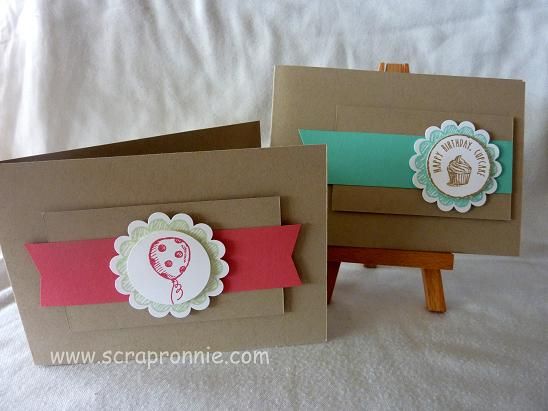 Materials: Sketched Birthday stamp set (
130423
), Crumb Cake (
121685
), Strawberry Slush (
131300
) and Coastal Cabana (
131302
) cardstock, 1 3/4"scallop circle (
119854
) and 1 1/4 Circle (
119861
) punches, Baked Brown Sugar (
131174
), Coastal Cabana(
131175
), Crisp Cantaloupe (
131176
), Pistachio Pudding (
131177
) and Strawberry Slush(
131178
) ink.
If you would like to order any of these products, please contact me
here
, or you can order online at anytime
here
.