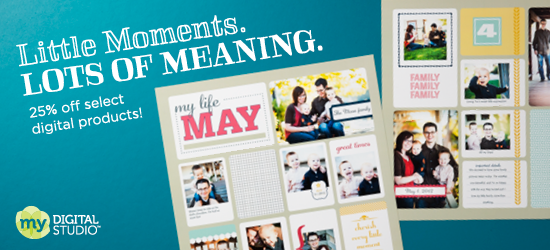 25% off select My Digital Studio content!
May 1st - June 15th!

Includes: ALL ensemble, calendar, photobook and swatchbook digital content.

Have you had the chance to check out MDS? Its Stampin'Ups! new easy-to-use design software that is compatible with PC and Mac operating systems. It allows designers of all skill levels to create their own digital projects or use hundreds of templates to make professionally designed cards, photobooks, calendars, and more.

It's easy enough for beginners, but includes a variety of tools for advanced designers too. Anyone can try it FREE for 30 days! You can download it straight from the online store (item 130910).

If you have always wanted to try digital scrapbooking, or love the idea of hybrid this is for you! Check out all the How To videos here.

And if you think software like this must cost a fortune - it's only $24.95!!! The software even comes with content to get you started. Check it out here.

If you already have digital software that you prefer to use, you can still use the MDS donwloads! Simply choose the 'for another application' option after purchasing the download.

And don't forget there are heaps of FREE downloads available too!!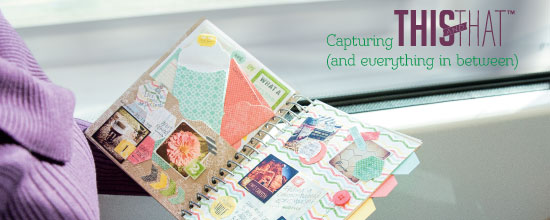 NEW THIS AND THAT!

Your life is: Awesome. Quirky. Exciting. Perfectly messy. And happening really fast. So Stampin'Up! is happy to introduce their newest product line that lets you capture it all on-the-go. This and That will debut in the 2013-2014 annual catalogue, but Stampin'Up! are giving you the chance to get it now.
You can purchase these items individually, or for this month only you can buy all of them in a bundle and save 15%!!
Item

Description

Price

131268

Epic Day This and That Journal

$18.95

130814

Epic Day This and That Designer Series Paper

$18.95

131463

Remember This and That Rotary Stamp

$9.95

131271

Epic Day This and That Designer Stickers

$8.95

131269

Epic Day This and That Designer Washi Tape

$8.95

133905

Epic Day This and That Bundle
Includes the five This and That products listed above. Only available in a bundle until 31 May.

$55.88

15% Off Retail Value!
If you would like to order any of these products, please contact me here, or you can order online here.