What is a Stamp-a-Stack class I here you say? It's a class where you get to come along and have loads of fun all while making a stack of cards to take home. You will get to make 4 cards each of 3 different designs. Of course you can customise your cards for whatever occasion you need (ie you can make all happy birthday cards, or a mix of occasions etc).
Here are the 3 designs that we made in March's Stamp-a-Stack. Every class will contain 3 new designs.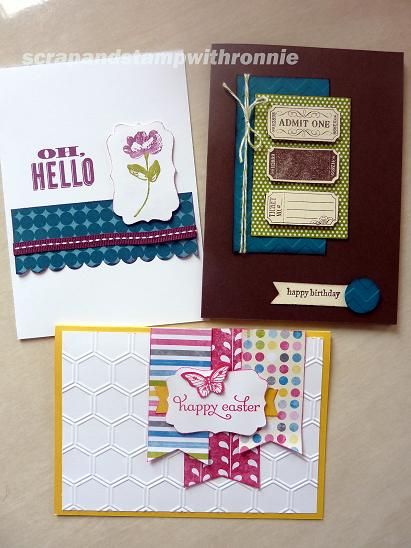 If you would like to come along, please contact me
here
. We had so much fun last month and hope you can make it this time. If you can't come this weekend, make sure to check out my class schedule located in the Classes tab at the top of the screen.
You still have a couple of weeks to get your entry into the BIG Giveaway. There are 4 easy ways to enter which gives you 4 entries to win!! And remember the more entries, the more prizes I am giving away!! You can find all the details
here
.